It's 4am on the 12th April. I am sat in Phuket airport and I've been staring at the same spot on the floor for two hours, desperately trying to make sense of what has just happened to me.
Today, I was convinced I was going to die. 
At 3:30 pm on the 11th April 2012, a huge earthquake struck off the coast of Sumatra, Indonesia. Right now, that's the only information I have. 
At the time, I was on a boat back to Phuket after an amazing week spent in Koh Yao Noi. I was happily sunbathing on the ferry, working on my tan when about half-way through the journey I felt a large bump. Several of them as the boat swayed slightly from side to side. Being the paranoid, anxiety-filled individual that I am, my head was immediately filled with irrational fears – What was that? Did we just hit something? What if it made a hole in the boat? Are we going to sink? Maybe we hit a shark? Are there sharks out here?!
Little did I know, for the first time in my life, the reality was far worse than my paranoia.
Unaware that anything had happened, we arrived at Phuket where a very nervous taxi driver was waiting for us.
"You feel earthquake? Earthquake 30 minutes before you arrive. Very big one. Very scary."
Dave and I shrugged and told her that we'd been on the water and hadn't felt anything. However, I couldn't help but start to feel a little worried. I'd experienced an earthquake for the first time while in Taiwan and at a magnitude of just 4.5, it was enough to have me freaked out for days afterwards.
All I could think about was getting to the airport and getting out of Phuket before the aftershocks started to hit. 
Arriving at the airport, I noticed an unusual amount of people crowding around outside. Our driver asked the security guard if the airport was still open. It was. Phuket airport has bag scanners located at the entrance to the building and I had just taken off my backpack to get it scanned when suddenly,
Chaos. 
The air filled with gasps and screams and as I raised my eyes in confusion I saw every single person in the airport simultaneously stampeding towards me wearing the same look of terror on their faces.
I instantly reached for Dave. "Dave! What's happening? What's going on?! What do we do? What's–"
…And then I realised.
There's a bomb.
I stopped talking, dropped everything and launched myself towards the exit, running faster than I ever have before. I tripped, I stumbled, I almost fell to the ground on several occasions but nothing could stop me getting out of there.
With the pain in my side increasing until it felt like I was being ripped in half, I barely even noticed the growing ache in my chest, the trembling of my legs and the pins and needles in my face.
After reaching what felt like a much safer distance I immediately tried to find out what was happening.
"There has been very big earthquake. Big aftershocks. Tsunami is coming. Like last time." 
Tsunami.
I stood motionless for a minute, unable to move, unable to think, unable to process what was happening. As I came to my senses, all I knew was that I had to find Dave.
We had become separated at some point, and so I did exactly what you aren't supposed to do in situations like these. I turned around and started running back towards the airport. 
I fought my way through the hoards of frantic people – Everybody was either running, screaming or crying. It was like a scene from a disaster movie. Parents were launching their children into songthaews and yelling at the drivers to take them to higher ground, children were near hysterical with fear and I was being pushed and shoved from every direction as everybody fought to save themselves.
I raced back, desperately scanning every petrified face, searching for a glimpse of familiarity, but nothing. My heart sank. I reached the airport, walked inside and it was like a ghost town – just a few people were left now.
And then I saw our bags.
I don't know what was going through my mind, but I knew I had to bring them with me. I pulled my three bags onto my back and front, and then dragged Dave's one off the conveyor belt.
I found a luggage trolley, lifted Dave's bag onto it with a superhuman strength that I wasn't aware I possessed and began to run like my life depended on it. Because, well, at that moment, it did. 
I usually struggle to carry my bags for more than 100 metres at a time, so trying to run with three bags while pushing another uphill was like trying to solve a maths equation with a poem.
Within seconds, my clothes were drenched with sweat, my face was burning up, and I felt like I was going to vomit. My back felt like it was about to break and my legs threatened to give way at any second.
Running parallel to the runway, I spent half my time colliding with people, cars and scooters, and the other half frantically looking behind me, expecting to see a tidal wave engulfing the airport.
Over and over, I considered ditching the bags by the side of the road. I didn't want to die because I'd tried to rescue all of my belongings. But how can I just leave everything here to be stolen?
I could feel the fatigue setting in and I was growing weaker and weaker with each passing step. As the road started to get steeper, I could hear myself bursting into tears and pleading for help with my trolley. Not a single person even acknowledged my existence.
Fortunately, after a few minutes of begging, somebody finally took pity on me and helped to push my trolley uphill. I thanked him over and over and over, before quietening down to just whimpering about how scared I am.
"We're all scared, love" was his grim reply. 
After what felt like hours, we finally reached the evacuation point: An area of ground raised not much more than 2 metres above the road.
This isn't high enough. We're not high enough. I need to get higher.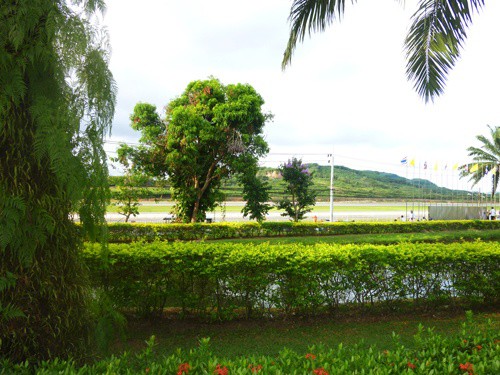 Looking around, my knees began to buckle and tears welled in my eyes, causing the horrific scene to writhe before me. As I watched frantic people climbing on top of walls, trees and buildings, a woman collapsed on my shoulder in tears.
"We're all going to die. My babies. I'll never see my babies again. My family. Help me. Please, God."
I held her tightly as we both cried hysterically. My only thought at that point was: I am going to die alone.
And then, an arm on my shoulder, a kiss on my cheek.
Dave had found me.  
I couldn't even speak as the tears streamed down my face. I clutched at him desperately, promising to myself to not let go until all of this is over.
My joy was short-lived as an official announcement was made over the loudspeakers: It has been confirmed. A tsunami is heading our way. It is thought to be four metres high and it is due to hit in twenty minutes.
I spent those minutes panicing, crying and murmuring complete and utter nonsense at Dave.
And suddenly, silence. 
Every single person stopped speaking. The birds stopped singing and the breeze felt noticeably cooler.
As I looked around in confusion and unease, I could hear a faint hissing noise in the distance, increasing in volume with every passing minute. As I scanned the faces of the crowd I could see the sheer terror and panic on everybody's face.
The tsunami was coming and it was at this point that I really lost it. 
"No. NO! Dave. I love you. Oh my god. Don't let me die. Please don't let me die. I'm so scared. Dave. I can't die. Oh my god. What's happening? Please. Please. PLEASE."
Squeezing his hand so tightly that I thought I might break his bones, I turned to face the runway and prepared to die.
I was going to die. 
…
As the noise reached almost deafening levels, a large plane slowly came into view…  The entire crowd breathed a loud sigh of relief and started to cheer and laugh.
I'd have felt embarrassed if I wasn't bent over, dry-heaving in a bush.
My knees gave way and I collapsed on the floor amid a flood of tears. I was done. I couldn't take any more. The adrenaline had gone, I had no energy left and no will to live.
I just wanted the nightmare to end. 
There had been no further updates on the situation so all we could do was sit and speculate.
With a small amount of data left on Dave's phone, we would check Twitter every 10 minutes to see if there were any updates. Everywhere has been evacuated. There have been two more aftershocks. The tsunami is due to hit within an hour. The wave is four metres high. The wave is one metre high. The wave isn't going to reach us.
This was interspersed with information from the crowd, with some people stating how it had been the biggest earthquake in history, that the ocean in Phuket had receded over one kilometre, that everybody in hotels in Thailand would have to stay there for three days and that we were all going to die.
I didn't know what to believe, but I couldn't allow myself to believe that we were going to be ok.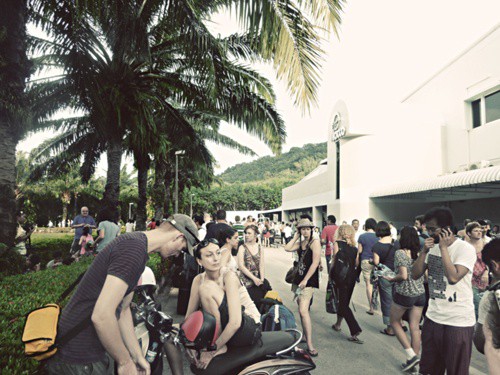 There was another announcement: If nothing bad happens within two hours everybody will be free to go. 
Two hours.
The slowest two hours of my entire life. And definitely not the calmest either.
The data on Dave's phone had run out so we had no access to any information. We could just pace back and forth like everyone else, waiting to be told that we would all be ok.
As trucks of airline crews were transported to the evacuation area, the final announcement was made:
We were ok. The airport was going to reopen in half an hour and our flights would depart at some point after that. 
I should have felt relieved, I should have felt happy, I should have joined in with the cheers and dancing of everybody else, but I just felt numb. I felt empty and spent the next few hours in a trance, barely speaking, just staring straight ahead with eyes glazed over.
The rest of the night flew by in a blur:
Slowly trudging back to the airport in the dark. Joining the queue to check in. Finding out that all flights have been cancelled and that all flights tomorrow are full up. Spending the night lying on the airport floor, unable to sleep. Every small noise waking me up and filling me with fear and dread.
And that's where I am now. 
Alive. But very much shaken up, emotionally scarred and desperate to get out of Phuket.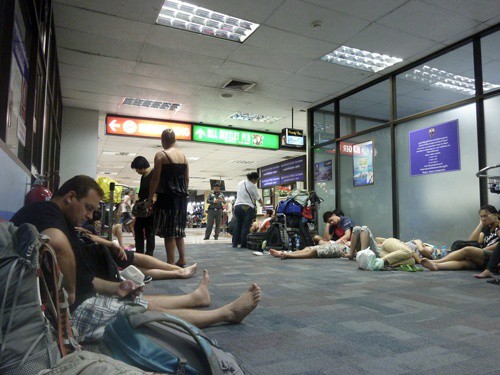 Afterword: After Dave started queueing at 4am to get us put on the standby list, we were fortunate enough to get on the first flight to Chiang Mai the next morning. 
It was then that I discovered the "tsunami" was, in fact, 10 cm high. Five people died. Mostly due to shock and heart attacks. I'm surprised I wasn't one of them… 
And so, I guess this is now a ridiculously over-dramatic post about a 10 cm wave. 
But it was, without a doubt, the scariest day of my entire life…
[Images via: Twicepix/Flickr, Mollivan_Jon/Flickr, timbodon/Flickr, astanhope/Flickr]
Tsunami is a Japanese name for 'harbour waves' generally called tidal waves but actually tsunami has nothing to do with tides. Tsunami is generated when ocean floods shift vertically, usually due to an earthquake. When a shift in the ocean floor displaces the water above, the water body travels as a huge wave to regain equilibrium. Actually tsunami is generated as a result of a sudden rise or fall of section on the earth's crust under the ocean.
A seismic disturbance can displace the water column creating a rise or fall in the level of the ocean above. This rise or fall in sea level is the initial formation of tsunami wave.
Unlike surface waves that affect only a shallow amount of water, a tsunami stretches all the way to the sea floor, as rises to the land, so does the wave. Arriving at shore, such waves can grow suddenly by dozens of feet. The satellite imaging did not provide a depth for the waves that hit ashore. In deep water, a tsunami can travel at 700 km per hour.
But in shallow water near coast, it get slower and water mass rises up to 50 meters. A tsunami is very much destructive. It can strip coasts of land, uproot trees, wipe out towns. The records of tsunami deaths or disaster are generally not available as they are commonly fixed with earthquake deaths.
In the year 1755 on 1st Nov. a colossal earthquake destroyed Libson, Portugal and rocked much of Europe, a tsunami followed, killing more than 60,000. August 27,1883 was another day of disaster. The eruptions from Krakatoa volcano fuelled a tsunami that drowned 36,000 in western Java and southern Sumatra. On 23rd August, 1976 a tsunami in southern west Philippines killed 8,000.
In another tsunami disaster waves as high as 100 feet, spawned by an earthquake, swept the east coast of Japan in which 27,000 people died.
In the latest tsunami on 26th December, 2004 in Indian Ocean caused because of an undersea disturbance which was the result of an 8.9 magnitude earthquake, just off the northern tip of Indonesia's Sumatra Islands. This created a havoc in Indonesia, Hong Kong, Sri Lanka and India. It is estimated that more than 1 million people lost their lives and more than this are missing and the total loss must be of hundred of crores.
Tsunami affected India's southern part. The most affected areas were Tamilnadu and Andaman & Nicobar Islands. Joggers on the Marina Beach in Chennai and fishermen all over the Tamil Nadu coast got a jolt of their lives as these deadly waves lashed these coastal areas within seconds and washed away over 25,000 people, leaving equal number untraceable.
Tsunami struck India for the first time in the recorded history. The country 3 still coming to grips with nature and scale of disaster. The worst affected . ere the 45,000 people of Car Nicobar and Greater Nicobar where a earthquake of 7.5 magnitude hit the area in the morning.
In Indonesia, Sri Lanka and Hongkong thousands of people lost their lives and up to five million people have been displaced by the divesting  tsunami that pummeled large areas of Asia. Three millions out of these affected are in Indonesia alone and another one million in Sri Lanka. The rest were spread between India, Maldives and other nations hit by tsunami waves.
But the most surprising is that wildlife in Sri Lanka's biggest national park survived the December's tsunami, but it was probably keen senses and the lay of the land rather than any mysterious instinct danger enabled animals to scamper to safety. It was a acute natural senses such as hearing that helped animal's times to flee. It is an ancient belief that animals have a sixth sense for danger and this sense must have a med animals of tsunami's approach.
Geography and planning saved Maldives from these deadly tsunami. While standing on the highest point rock of the Maldives and looking down the Indian Ocean less than 3 meters below, it is easy to see why this nation of low-lying atolls fears rising sea-levels will one day wipe it off the map. When a giant tsunami crushed fishing villages and tourist resorts across Asia became a reality the day after Christmas.
It was combination of geography and planning the death toll in the Maldives stands at just 80 in a disaster that claimed more than 1,50,00 from Indonesia. Many the Maldives 1,200 tiny palm-fringed coral islands 800 km off the toe India were swamped by these tsunami waves about a meter high.
Advertisements: